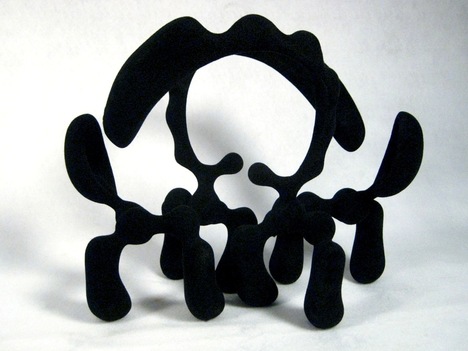 Sniffers
Sniffers was created through the SculptCAD Rapid Artists Project which gave twelve artists access to the Free Form 3D sculpting program and 3D printing.
I instantly had visions of producing my very own "Homer", a car designed by Homer Simpson that was so outlandishly stuffed with add-ons that it caused the financial collapse of Powell Motors.
So, with that in mind, I tried to focus on learning the basics of this technology and then blend it into my own artistic language. The resulting sculpture breaks new personal ground.I have of course spent a lot of time just playing with the program. It seems to encourage a "what if I do this" activity.
In the end I stitched together enough technical knowledge to achieve the results I wanted. The nestled pair of sculptures are a composite of shapes that I love working with plus a humorous animal reference that I credit to the playful, toy making aspects of the Free Form program.
The sculptures are printed resin that I then covered in a UV absorbing black flocking. The sniffing sculptures measure 10" x 16" x 9".

---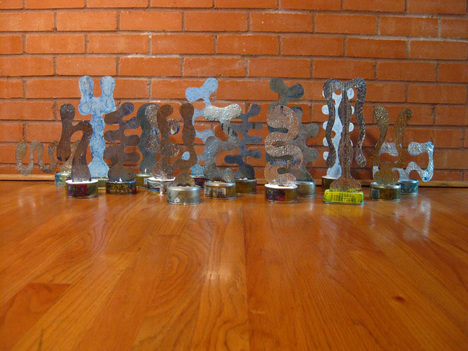 Cat Food Garden
If a cat could have a garden it would be filled with lots of tall wiggly things. The Cat Food Garden is a combination of recycling, sculpting and feline amusement. Each plant in the garden is constructed from cans that once held something my cats ate: cat food, tuna, sardines, garbanzo beans.
Some of the cans I ran over with my truck until they were flat. These flat sheets were then cut into wibbly wobbly shapes and mounted on can bases.
At last count there were 18 plants, the tallest of which measures 18".
---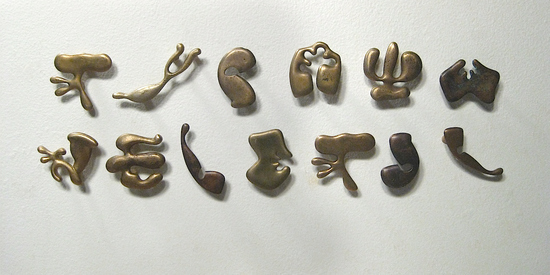 Pocket Candies
Pocket Candies are pocket sized bronze sculptures that tap into the tradition of netsukes and Tibetan worry stones.
---
---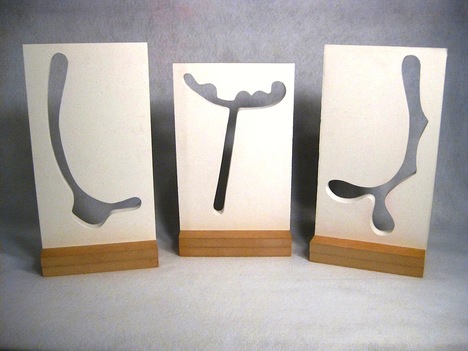 Flats
A selection of plaster cast sculptures that addresses the issue of flatness.